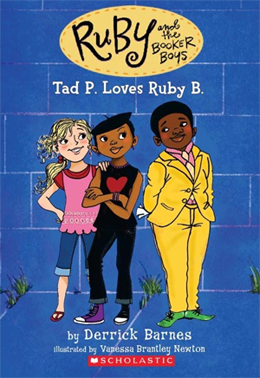 Meet eight-year-old Ruby Marigold Booker, the main character in the
Scholastic book series "Ruby & the Booker Boys"
by author
Derrick Barnes
and illustrated by
Vanessa Brantley Newton
. Ruby is creative, fun, sassy, smart, and shows her style and individuality by sporting mismatched shoes and coming up with new adventures to undertake.
The series follows Ruby's fun experiences and lessons as she navigates her eight-year-old world. Her character is relatable for all little readers especially African American girls who can see themselves in a character that looks like them and can be inspired by a positive example of a black family reminiscent of "The Cosby Show."
Watch the video below of Barnes talking about why he started the series:
I love the essence of the Ruby books and it would be great to see more books from the series. If you have a little reader in your life or know of someone who does, consider supporting the series by purchasing the books, especially book 3 and 4. If they're not in your bookstore you can have them ordered or
order online
. The books are pretty affordable and they are worth bringing joy to children who may not have seen a role model like Ruby.
If you are or happen to know any educators (teachers, librarians, principals, etc.) you can visit the
author's website
to find out how to schedule a classroom visit.
Click here to be a fan of Ruby & The Booker Boys on FaceBook.